Hi everyone!
This is my first ever blog on here, oooo~ fancy. I have a lot of post ideas in mind, I'm very creative! :D and excited to get this show on the road. :)
For today, I'm just going to share a few quick things to get started: a small make-up haul and some reviews of the products so far!
First of, my small make-up haul. I went to Superdrug for this... I am actually a Boots girl and for some unknown reason, something niggling away inside of me just prefers Boots... I think the stores are nicer and feel nicer. I just... idk. Anyway. So, Superdrug are always doing 3 for 2 on pretty much all of their make-up brands which always makes me spend more than I intend to, but of course I end up saving too! I wanted to try the 25 hour foundation from rimmel london as I have been reading about it on blogs and youtube for a while, I know it is old but I have been using my very trusted and favourite foundations and powders for a while now, and although they have been really good for me. .. it's time for a change!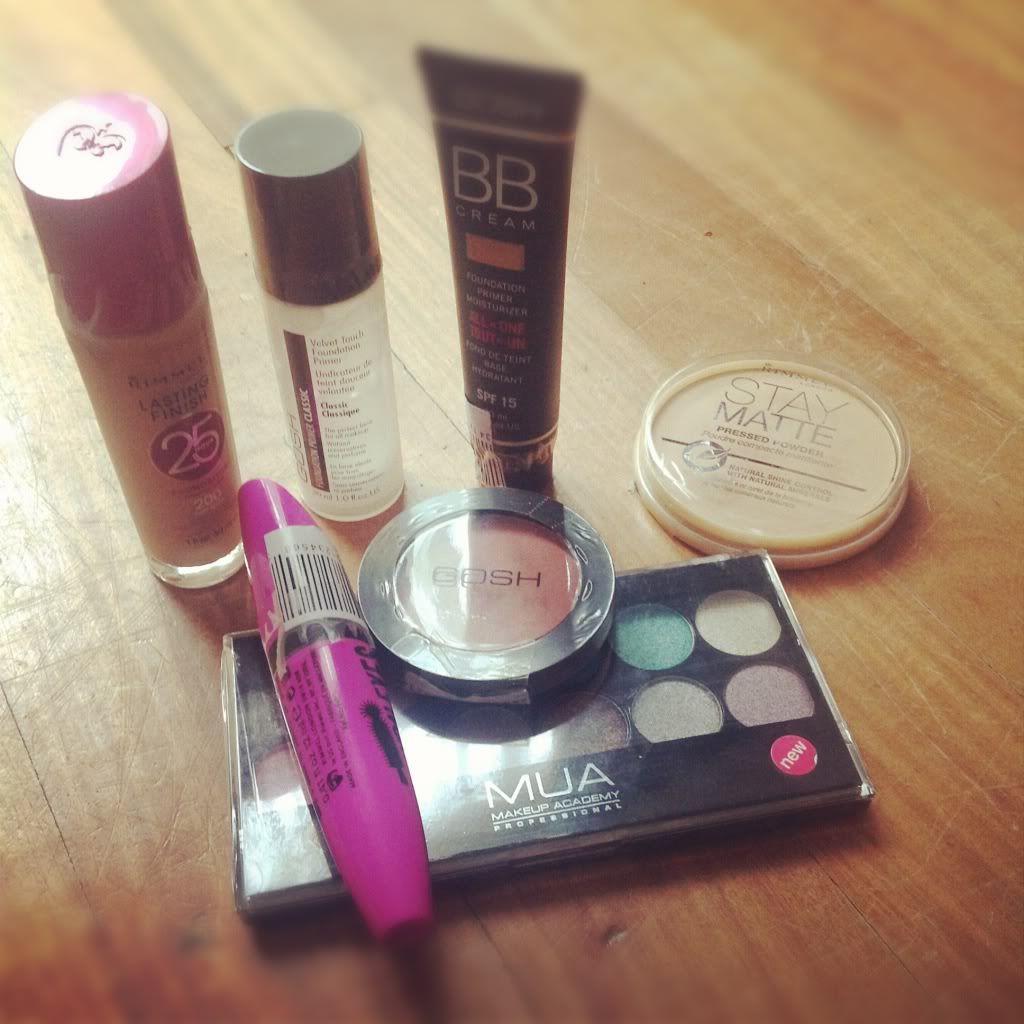 25 hour foundation by Rimmel Londonin 200 soft beige
GOSH foundation primer in classic
GOSH bb cream spf 15 in 003 warm beige
Stay Matte powder by Rimmel in 004 sandstorm
Scandal eyes mascara by Rimmel (refunded for the older "volume flash")
GOSH blush in 39 electric pink
MUA eyeshadow palette "Glitter Ball"
The scandal eyes macara above I actually had to take back to the shop and get a refund because when I first opened the mascara, the wand was completely dry and there was no liquid inside the tube (or at least that's what it felt like). I know with some mascara's it can take a while for the liquid to start sticking to the wand or for the wand to get covered enough, but I did keep trying and "pumping" the wand in the tube but it was still as dry as anything. Even when I wiped the wand on my hand, there was hardly any trace of mascara coming off the wand. I was very disappointed so I went back to Superdrug where the manager opened another mascara, the same product, for me to test. Well, this one was also really, really dry and there was hardly no liquid inside the tube, the manager told me it may be a bad patch of the product. I ended up getting the older version which I have been using for a while, "volume flash" scandal eyes, instead of this one... :(
Have you ever tried Scandal eyes? What do you think?
Next up is the GOSH blush in 39 electric pink. I have never tried GOSH cosmetics before, and I have been looking for a really nice, pale pink blush, that is perfect for summer, that gives me a fresh, pink cheek.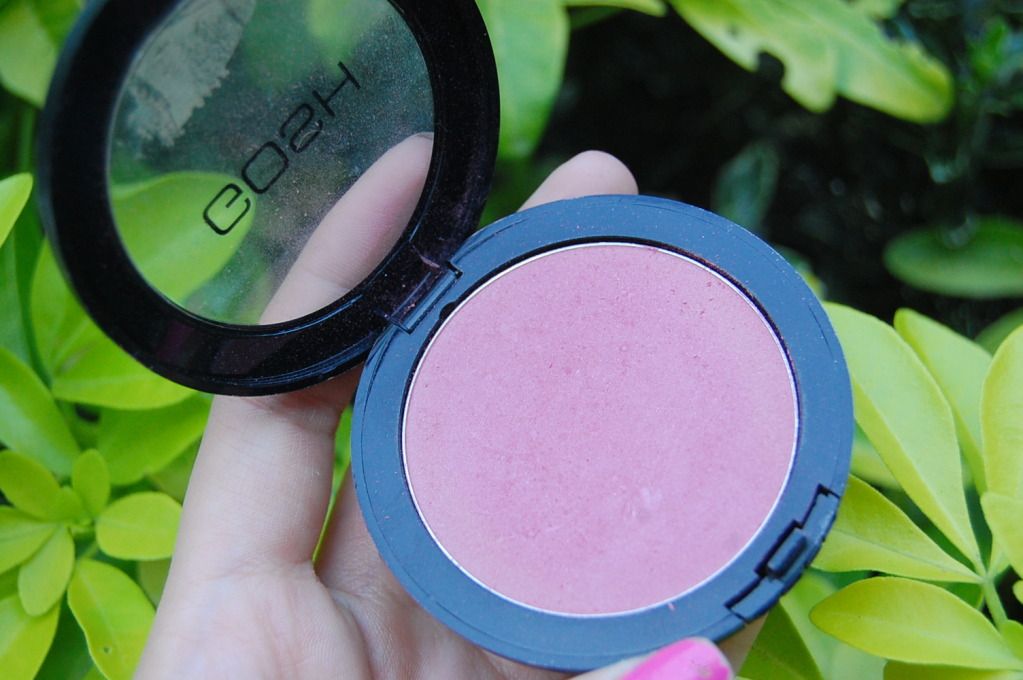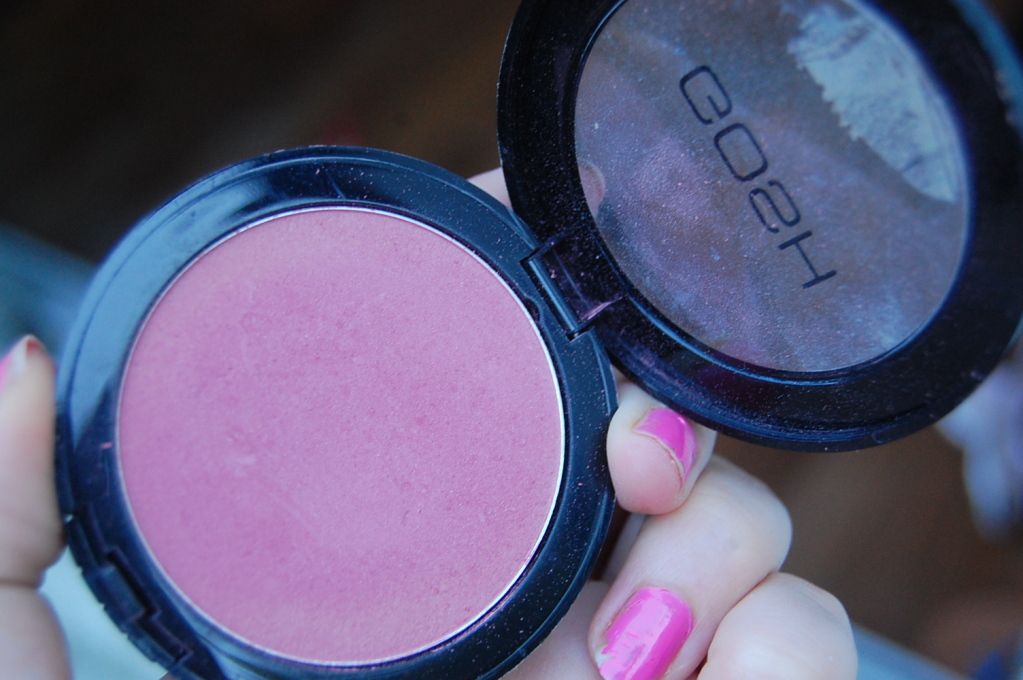 This blusher does just that. It is really soft and the texture is lovely. The powder doesn't separate easy (which I always hate with blushes) and it is very buildable, you can use just a tiny bit for pink-kissed cheeks, or build it up for more peachy pink look. I prefer just one or two applications which leave my cheeks looking fresh and natural.
Another new product for me to try is the BB cream by GOSH. Now, I got this for the primer and the glow that it promises, not for the foundation side of it. I am completely new to BB cream, so using it was a complete first for me, and to be honest I was worried I wouldn't be able to tell the difference between wearing it or not, and wondered if it was just a waste (which is why I also bought the GOSH liquid primer).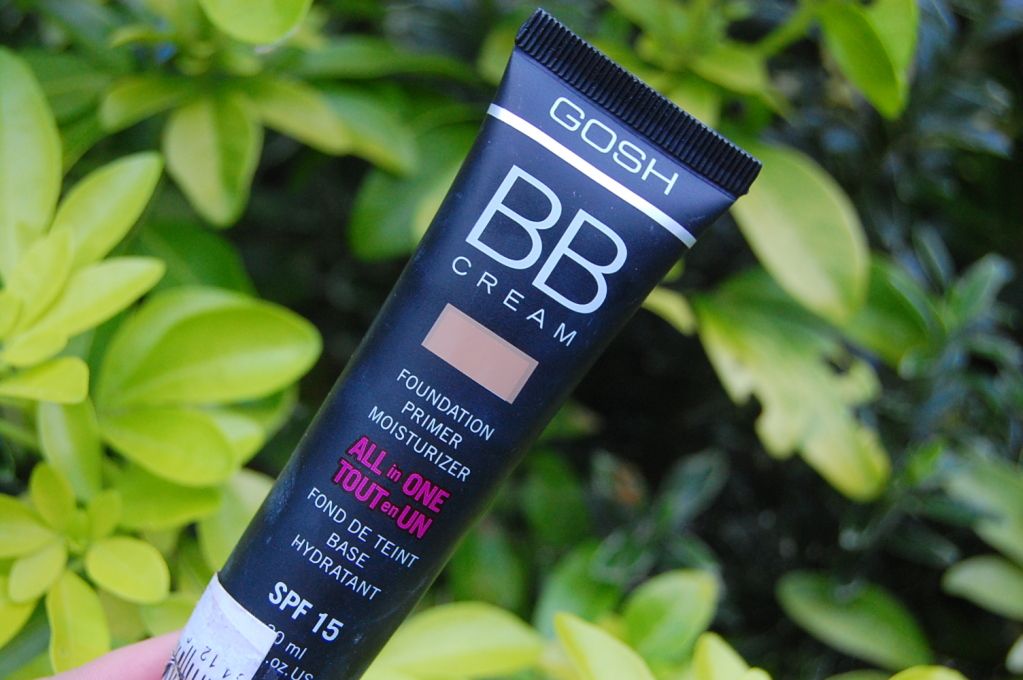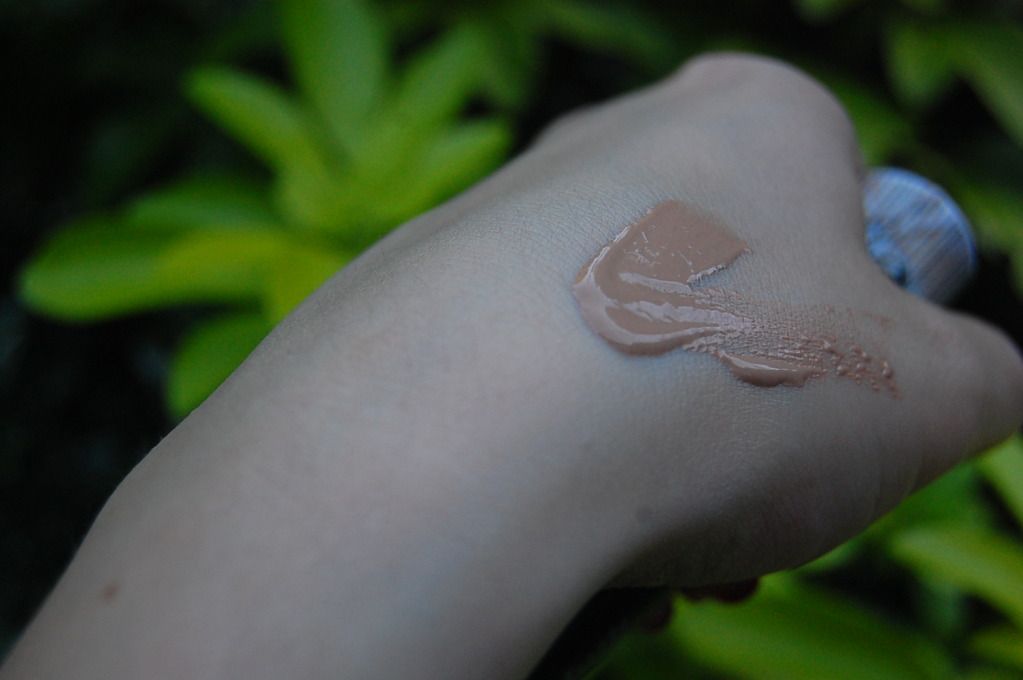 There were not many shades to choose from with this so the shade is a little dark for me, but I apply it as a base as it is a primer as well as a foundation, and after applying my foundation & powder, I really can't tell the shade is not perfect for me. It is a little heavy and on the down side - it is hard to control how much liquid comes out of the tube, it seems like the tube always squirts out far too much than I want or need, even if I hardly squeeze it. I normally end up wasting some because a little goes a LONG way with this and only a little is needed. Because it feels heavy, it can feel kind of... hot when it goes onto the skin, when I first applied it for the first time I ended up walking away and doing something else before applying the rest of my make-up and it did feel like I had a face mask on, lol. This feeling gets better after time though and it does set into the skin nicely.
The foundation side of it is great. It has heavy coverage, which is buildable but I don't honestly think you would need to use much of this, and it acts as a great concealer. To be honest I couldn't tell whether it was keeping my make up on for longer when I wore it or when I didn't, but I have been wearing it under my usual foundation for long days and when I won't be able to apply my make up throughout the day.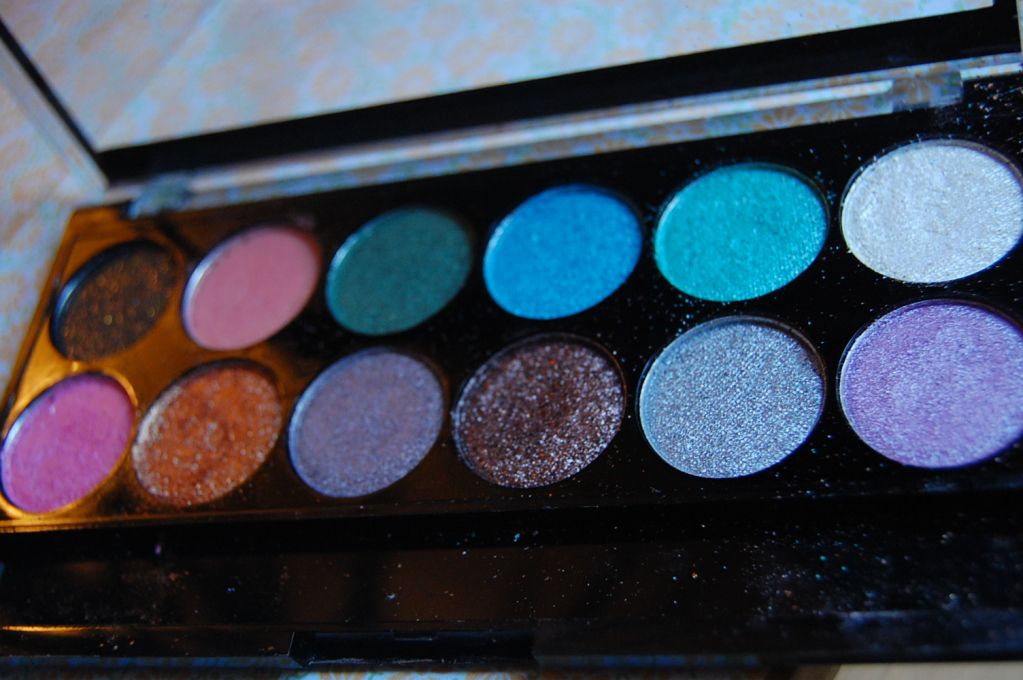 This "new" eyeshadow palette by MUA is called Glitter Ball and I am in love with it! I have never used MUA cosmetics before but I have heard nothing but good things about their products. Their products are very, very cheap, they are known as the "£1 make-up range"... you can get them from boots and superdrug and this palette was just £4. I have a soft spot for glitter eyeshadow so I just had to pick this up and - I am so glad I did because I love most of the colours and the texture and pigment of these eyeshadows are very nice, good quality and at a total steal for £4 for the whole palette! I have been using these pretty much every day. The soft silver colour on the top right, I believe this is called Pearl shadow 2, is a nice base for creating smokey eye looks. The shades I have been using the most are the top teal/blue/green especially the one on the far right called Pearl shadow 6 (unfortunately none of these have names and I found them from the website.) You can see the individual eyeshadow of that shade here: http://www.superdrug.com/eyes/make-up-academy-pearl-eyeshadow-shade-6/invt/204817/ it is gorgeous! I also like the bottom left hand pink and the gold next to that, unfortunately these are not on the website so I'm not sure if they can be purchased as single eyeshadows.
Check out
this blog post
by !KissandMakeUp, she posted lovely swatches of this palette.
That's it for now! I hope you enjoyed reading my first ever blog post and please tell me what you thought! Any comments would be just lovely :) Have you tried any of these products?
xxxx